We are really excited to introduce to everyone, The Christmas Princess. Writing the story was fun, considering that I wrote it with my granddaughter, Scarlett, who was four at the time. It was near Christmas, her brother had just recently been born, and Scarlett, much as she loved her new little brother, had been pretty much convinced that she was getting a little sister.
In fact, at the hospital, when she first saw Roman, she gushed to her mom, "Thank you for my little brother!" Then she said, "Where is Evangeline?" Evangeline was the name her mom and dad had chosen for a girl. It took some time to convince her that she did not have her little sister.
As it got closer to Christmas, Scarlett got more and more excited. She and I played together a lot. One day we were playing dress-up. Her favourite characters were princesses. You will find a picture of us, in dress-up, at the back of the book! I asked if she wanted to write a story. She was quite excited to write a story, just like her Poppa did. I had the concept in my head, so I started to write. It had to be short in order to keep her interest up. Of course, she said the story had to be about a princess, and the princess was named Evangeline! My idea changed quickly as I realized that she was determined to get her little sister, even if it was in a make-believe book.! We had a fantastic time writing the story. Everyone else was out for a walk, or otherwise occupied, so we were on our own. It was magical spending that time with her, watching her face as she thought about toys, and other potential gifts, and places to wait. She was so intense, and would light up when she got an idea she liked. We finished the story in a very short time, and then presented it to the family. At the time I thought that that would be the end of, The Christmas Princess. It would simply be a keepsake for Scarlett. Little did I know...................
About 4 years ago I was struggling to find a play for my Grade 7 class's Christmas Concert presentation, when I thought about our little story. I hastily wrote a script for live production and we went into rehearsal. The day of the concert Scarlett, her brother and parents, all came to see the production. Everything went really well, including having a live baby on stage! Then the story was put away again, but this time I thought that, just maybe, I could turn it into a book......................
Move forward to September 27th of this year, and I was selling my Squawker books at the Garlic Market, in downtown Merritt. Set up right beside my booth was Lakeshore Creations. Their display of pebble and tumbled glass art was beautiful, and selling like hotcakes! As the day wore on the idea to have them do the artwork for, The Christmas Princess, grew and grew. I explained my idea to my wife. She immediately said an emphatic yes. I approached Jill and Lori, at Lakeshore Creations, and they were incredibly excited..............
I cannot even begin to explain what we have had to do to get this book into production. I won't even try, just suffice to say that it generally takes 18 months to 2 years to get a children's picture book on the retail shelf, and we have managed to do it in 2 1/2 months! Everyone who has had anything to do with producing this book has been excited by the prospect of seeing the completed project. It seemed like the book had a mind of its own. It was going to be ready for Christmas, and it is!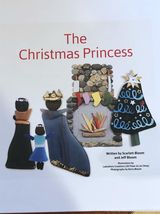 Copies can be pre-ordered by contacting me through my website, jeffbloombooks.com, or by calling, 250-378-9170, and asking for Jeff, or Gail. Local valley residents can avoid shipping costs by calling the phone number above for delivery and curbside pick up.
Getting this book to you has been a fantasy ride. The story is uplifting, the artwork unique, and almost the entire production has been made with local talent. In these very uncertain times here is a feel good story that harkens back to the more carefree times of our imagination.
Talk to you soon, Jeff.